Costa Rica Trail Adventure
Costa Rica
November 2020
Discover the spectacular Pacific coastline of Costa Rica on this epic trail adventure, covering a (mostly) relaxing 5-12km a day as you explore rainforests, waterfalls, tubing rivers, National Parks, pristine beaches…and even a volcano!
Join Dream It and Total Sport founder Aaron Carter on an exclusive trail running experience exploring Costa Rica – one of the most diverse and beautiful countries in the world.  Over the course of 8-days over 300 competitors will run and explore the most scenic landscapes in Costa Rica, including remote cloud forests, pristine white sand beaches and high mountain volcanos.
With just 400 tickets available to this sold out trail event worldwide, Aaron is super excited to be hosting this South American adventure, with just 25 spots available in NZ!
We've teamed up with Total Sport for this awesome adventure and with just 25 spots available for this sold out event trail event, we reckon you should get in quick!
Highlights
10-Day adventure along the spectacular Pacific Coastline of Costa Rica
Experienced, local guides, with you all the way from the airport and home again
Food, culture and shopping in the city of San Jose
Deliciously fresh local cuisine (almost all meals included in the Dream It package price, including an all-expenses paid resort!)
Infamous "Superman" zipline at Ocotal Beach
A visit to the famed Baldi Hot Springs, located in La Fortuna de San Carlos, Costa Rica
Swimming in waterfalls and canopy walks in the Mundo de Aventuro Park
Two nights in an all-inclusive resort – all you can eat, all you can drink, all you can swim, all you can lounge, all you can play.
A visit to the cloud forest in the Selvatura eco Adventure Park
Surfing and snorkelling at Samara Beach
Accommodation and all ground transportation and transfers
Detailed Information
Daily running competitions of 5-12 kilometres are just the beginning of this multi-day adventure that includes zip lining through forest canopies, exploring volcanic hot springs, plunging through jungle rivers and waterfalls and experiencing some of the incredible wildlife anywhere in the world.
The evenings will be filled with good food, social connection and relaxing pool side recounting each days events with friends both old and new.  Along the way Aaron shares the exclusive Total Sport experience which has you covered from beginning to end.  It's the 'Total' package that includes everything from hotels, logistics, food and travel, to an exclusive pre-trip training programme that will get you fit and ready for the experience.  So what are you waiting for…  Join us in November 2020 for this limited trail running adventure!
Your Race Itinerary
Daily runs will be 5-12 kilometres, and if you're so excited you want more, we can help with that too!
November 13th
Depart Auckland Airport, enjoying a relaxing refreshment in the airport lounge as you get to know the rest of the crew! Arrive San Jose International Airport for a quick stay in the country's capital.
November 14th – Welcome to Costa Rica!
We'll make sure you get a taste of Costa Rican culture right away. It's a day for registration, exploring the city, soaking up this amazing culture and sitting poolside at our first hotel. Yes, a cocktail or two won't hurt before tomorrow's first run!
November 15th – Race Start (Arenal Volcano – Canopy Tour – Baldi Hot Springs Resort)
It's an early start to kick off the adventure in Costa Rica.  We'll board the buses at 7am and be off to Mundo de Aventuro Park!  We're not ones to dip our toe in adventure.  We're pretty much ready to dive in head first!  Our morning run will have the Arenal volcano as a backdrop.  After, we're going straight for a waterfall and canopy tour.  Zipping through the trees will be your right of passage into all Costa Rica has to offer in the way of adventure.
Our home for the evening is the famed Baldi Hot Springs.  Baldi is located in La Fortuna de San Carlos, Costa Rica at the base of the Arenal Volcano and is surrounded by nature.  On property you'll find 25 pools of thermal water, rich in minerals and healing properties.  Rest those legs in the springs or by the pool bar, but rest them nonetheless.  We're just getting started.  Dinner is served at the resort that evening.
November 16th – Race Day 2 (Montverde Forest – Salvatura Adventure Park – Establo Hotel)
Our next trail adventure will take us from Lake Arenal up to the Monteverde Cloud Forest! We'll wind up at the Selvatura Adventure Park. Selvatura is an eco Adventure Theme Park dedicated to give visitors a chance to experience the cloud forest and enjoy its fun and adventurous activities. After lunch among the butterflies and hummingbirds, we'll be checking in early to the Establo Hotel.  Known for its stunning mountainous views, there is tons to do here, nothing to do here, and plenty to see off the grounds. Enjoy the local coffee shops, play tennis or soccer on site, or simply grab a cocktail, hang by the pool, and enjoy the pool. You're on your own for dinner tonight, but we'll all plan to meet up at Bar Amigos, the best disco in town! That or get an early nights sleep, and be refreshed for another big day ahead.
November 17th – Race Day 3 (Ocotal Beach – Eco Diamante Adventure – Riu Palace Resort)
It's time to depart from the interior of Costa Rica and head to Ocotal Beach!  Run #3 has us running through the adventure park of Eco Diamante. Little known fact – this is also the stomping grounds of one of our own, Luciana Smania! Eco Diamante is her day job and she's going to give us the royal treatment. Watercrafts beach side, ziplining, and the infamous "Superman" zipline are all for the taking. This Superman zip is as close as you'll ever get to understanding what it would be like to really fly. Your eyes water, momentum gains, and you whiz along the longest zipline in all of Costa Rica!
After our morning run, mid-morning adventure, and buffet lunch at Eco Diamante, we'll be checking into our beach side resort at Riu Palace. Hope you've been working off a ton of that calorie intake, because this is an all-inclusive resort and we're there for TWO nights!  That's right. Unpack your bags and let out a huge sigh. All you can eat, all you can drink, all you can swim, all you can lounge, and tons of activities to keep you busy make this a perfect midway stop for the week.
November 18th – Race Day 4 (Beach Run – Evening Party Riu Palace Hotel)
It's important we earn our beach day with an initial beach run! Barefoot? Wet sneaks? Find the high ground? Run along the water? Choose your own adventure and get to that finish as soon as you can. We'll have lots of water activities to choose from, the swim up pool bar is a mainstay, you can check out the spa, book a round of golf (off property and an additional charge), and then meet up with some of the crew for a sunset yoga session. A dinner and party will ensue after. What better way to say goodbye to what has been our home for the past two days!
November 19th – Race Day 5 (Nicoya Peninsula – Samara Beach – Playa Samara Villas)
Indulge in your final buffet at Riu as you'll have time to digest.  We'll be traveling a bit and making our way to Samara Beach.  Sitting along the southern Pacific coast of the Nicoya Peninsula in the province of Guanacaste, is Samara.  A small sunny town with pristine beaches and picture-perfect scenery. The town is a popular beach resort community and is considered to be one of the safest beaches in Costa Rica, making it an ideal location for getaways and low-key travel.
We'll have a light lunch in Samara, digest once again, and then we're off to a great single trail run, with a bit of beach terrain mixed in.
Post-run, it's surf's up!  We'll stagger surf time for the group so everyone gets their day in the sun.  If you're not surfing, maybe it's snorkeling or hanging beach side.  Just be sure to make the most of your time here, as our adventure will soon come to a close.
November 20th – Race Day 6 (Final Run To Finish – Celebration Party – Playa Samara Villas)
Our 6th and final run is here!  You're so close. So close to saying you've risen to the challenge.  From volcanoes, to cloud forests, to waterfalls, to canopy tours, to superman zips, to beach activities, to challenging courses and terrain…you are almost there!
Cross that finish line, deliver the hugs and high fives, and basque on Samara beach one last time. Surfing, snorkeling, swimming, lounging, and celebrating are all in order.
In true Dream It fashion, it's time to tie it all up in a bow. It's the final party! You've earned your medal! You're one of us now! Congratulations on embracing this adventure!
November 21st – Final Day (Surf, Swim & Explore – VIP Group Dinner – Playa Samara Villas)
Sleep in (a bit) and don't worry, those worn out trail running shoes won't be needed today. Grab some breakfast and look forward to a super relaxing day, plus our world famous VIP Dream It dinner celebration! Recap the week long adventure at your place of choice with friends old and new. Reflect, laugh, and make sure to start planning your next adventure!
November 22nd – (Transfer To Libera Airport – Fly Home)
Time to farewell Costa Rica, via the shops for a few souvenirs for the family.
November 24th – Arrive back in good old NZ, ready to boast to your family and friends about the most epic travel and trail running trip ever!
Plan your next Dream It adventure!
Dream It founder Michael Davis began with a vision to help everyday people achieve goals and aspirations they never dreamed possible. Along the way, he and his team have discovered they are also redefining 'fitness and travel adventure' for the average Kiwi. "I take people who think they've seen it all, and those who think they have it all, and I give them more and show them more than they ever thought possible."
Michael (better known as Mavis) has many years' experience in business and event management within the New Zealand's fitness industry. He has created authentic and successful events and journeys by bringing together the country's leading fitness experts and outstanding partners who collectively help everyday people achieve their dreams. In the last five years, Mavis has led clients through months of training and support, and then run alongside them to complete outstanding personal fitness goals, including an epic 10-day trail running adventure following the Great Inca Road, the New York Marathon, The Great Wall of China Marathon and the legendary trails and Amalfi Coast Crossing Ultra Trail Run in Italy. He's your typical hard-working father of twins, who walks the talk and believes in making a difference in people's lives.
Mavis is currently Event Manager with Total Sport's annual Wild Kiwi event in Northland and has been actively involved in the sporting industry for many years, including managing Twinlab NZ Sports Nutrition in association with Les Mills, where he met a wide range of inspirational athletes and sporting mentors. He added to that list through the pioneering of a high-altitude training system in New Zealand, which he then took to the Middle East and Japan, and helped to launch in the UK. In doing all this, Michael has worked with a large number of top New Zealand endurance athletes and sportspeople, including the Olympic swim team, David Tua, top rugby teams here and in Japan, individual All Blacks, Olympic and Americas Cup sailors, rowing teams and the All Whites.
Along the way Mavis has also achieved countless personal fitness goals, inspired by the incredible guidance and mentorship of Roger Levie, who coached him from being a social club rugby player to competing in and successfully completing four ironman events: three in New Zealand as well as Ironman Nîce (France). Today Mavis' passion and driver is to pass that coaching gift on to others with his vision of Mission Possibility – supporting and watching everyday people achieve amazing things. Mavis' focus is to get anyone – anyone at all, who wants to challenge themselves with an epic fitness adventure – out there and loving it. His goal is to provide a package of services for everyday people like him, wanting to achieve the fitness highpoint of a lifetime.
"For me, Dream It is all about the emotion – the courage, the excitement, the fear, the nerves, the pride, the laughs, the love, the absolute sense of victory and accomplishment and the insatiable appetite for more. And together, we're doing it!"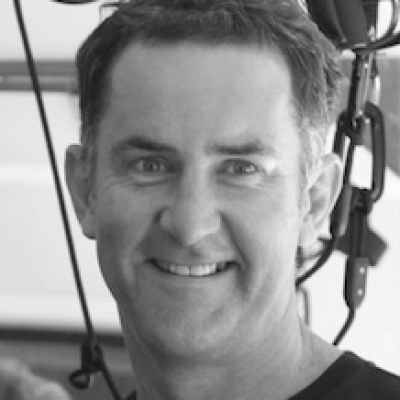 Rob Harsh
Chief Adventurer, Coach & Guide
Rob has been leading and guiding people in business, outdoor adventure and personal growth for twenty years. He holds a B.S. in Environmental Science and has worked as a sustainability and culture change expert for Fortune 500 companies since 1993. He has travelled extensively throughout the world on climbing, kayaking, mountain biking and running expeditions and has experience as a race director, certified mountain guide, search and rescue operator and working with adaptive athletes and injured veterans in the outdoors.
Along the way he's climbed mountains on five continents and participated in over fifty of the world's toughest adventure racing and ultra running endurance events such as Badwater, Eco Challenge, Southern Traverse and Coastal Challenge. In 2003 he led blind adventurer Erik Weihenmayer, who was the first blind man to scale Mt. Everest, to the finish of the 450-mile Primal Quest Expedition Race in California and later went on to become a race director in Primal Quest Utah in 2006.
He has been a Certified Professional Coach and Energy Leadership Master Practitioner since 2012, and is an expert in applying leadership techniques to support people in making positive shifts in their life, helping them overcome adversity and discover how to live in alignment with who they authentically are.
In 2016 Rob faced his ultimate challenge when he was diagnosed with Stage 4 Lung Cancer and given just a 4% chance of survival. Defying conventional wisdom he chose to forgo chemotherapy and take a holistic approach to healing, transforming every aspect of his life through diet, exercise, meditation and the principles of practice he learned as an athlete. Rob is now in full remission and continuing his efforts to serve and empower others through coaching, writing and guiding.
His main focus is developing one of a kind adventures that create opportunities for people to explore the world through adventurous travel. By bridging the gap between ancient wisdom and modern knowledge he offers transformative experiences that explore the land, culture & mythology of each destination, supporting people in stepping beyond their comfort zones, expanding their perspectives and learning universal wisdom that can be applied in overcoming perceived challenges in any area of life.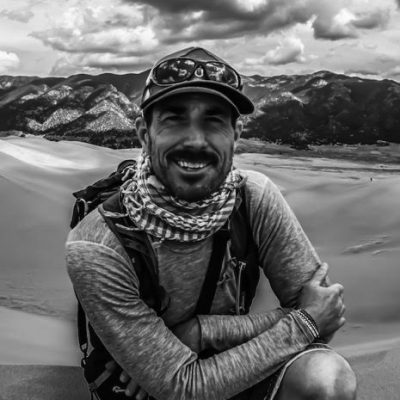 Aaron Carter
Sports event management specialist
Aaron has been involved in sports event management since 1997, where he started his career as an event manager for Sport Auckland, part of the Regional Sports Trust network. Aaron created Total Sport in 2000, which is presently one of NZ's largest producers of participation-based sport and recreation events.
Aaron has developed skills based around event concept development/design, vision, culture, leadership, planning, and creating a team of the 'right' people that share our vision and passion, who perform at a level befitting of the Total Sport brand.
Total Sports amazing range of events offer Dream It's runners a wide range of distance options and varying terrain which all play a key role in our clients training preparation leading into our International events.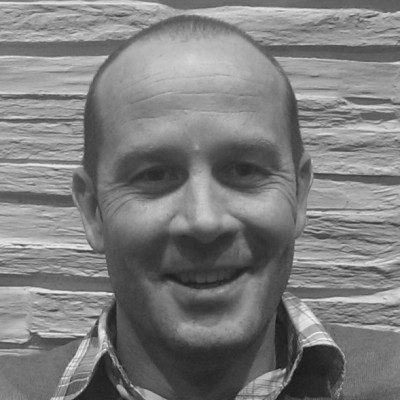 This really is the full package!!
Dream It trips are designed to be zero stress, 100% fun, with the Dream It team covering all your travel needs from the moment you arrive at the airport to your return home again.
Check out the Inclusions: Return Airfares, all transfers, most meals, accommodations, full hosting from Aaron Carter and Dream It hosts throughout the trip, from the Auckland airport lounge and home again, most resort activities, all daily racing and activities, race top & team training tee, park fees, pre-event group training get together, travel wallets and more!! We'll also provide you with regular travel and training tips and advice, right up until departure day, including gear lists, packing lists, training tips, nutritional advice, travel info and more!
Things you will need to sort yourself:
Travel Insurance, vaccinations before you go, a few personal drinks and snacks along the way, meals in transit and tips for the lovely locals.
Contact us to receive full costings and your Dream It Registration Form if you decide this sounds like you!
How fit do I have to be? What kind of person will this trip suit?
Our Costa Rica adventure is designed to suit anyone and everyone… as long as you enjoy having fun, staying healthy and making the most of all the amazing people, cultures and experiences we'll bring your way! It's completely okay to walk, run, or walk and run! We've had a total blast with men and women, single and married, solo and travelling with a group, aged anywhere from 25 to 70! Our main request is that you train and prepare like you would for any such adventure, so you're not having to worry about injury or being too tired to enjoy yourself at the end of each day!
What's the accommodation like?
We've carefully chosen really nice, super comfortable hotels, resorts, and even all-inclusive lodging where you can kick back and relax in the swim up pool bars or have some fun on the water slides or golf courses. Don't worry… you'll be well rested to make the most of every single day!
Will there be downtime to relax and explore?
Absolutely. We're packing in lots of racing, lots of activities AND giving you plenty of time to sit back, relax, and enjoy the surroundings. We're confident you'll love the balance between go and slow.
How much money can I expect to spend?
Included in your Dream It ticket is luxury coach transportation around the entire country, park fees, most resort activities, all racing, daily activities, 8 nights lodging, and almost every meal – awesome! So with the exception of a few meals, your bar bill, snacks, and a few souvenirs, we have you covered.
You mentioned a team pre event race? What is this likely to be?
Aaron Carter from Total Sport have suggested the Coastal Challenge www.coastalchallenge.co.nz would be a great event as a team bonding/meet/greet event in Feb 2020 (date yet to be released). Costa Rica entrants would receive a complimentary race entry. for this event.
What vaccinations are required for Costa Rica?
We will advise you closer to departure date and make recommendations on a travel doctor for professional advice.
What will the weather be like?
Late April and early May is the best time to visit Costa Rica. Most days are sunny with occasional afternoon showers with temperatures in the low 30 Degree C.